PROXIMANOVA-LIGHT.OTF PROXIMANOVA-LIGHTIT.OTF PROXIMANOVA-EXTRABLD.OTF PROXIMANOVA-BOLD.OTFPROXIMANOVA-BLACK.OTF
Get this font in here!
Patch Report
The Patch report provides details about patches for devices with Patch Management enabled.
At multi-tenant/partner level, the report will include all sites/customers by default.
The report can be accessed and scheduled from the Services section of the Reports page.

Report Details
The report will provide the following details for all devices with Patch Management installed:
Site/Customer name (at multi-tenant/partner level)
Device alias/name (clicking an alias link will redirect you to the Patches tab of the device's Detail drawer)
Patch name/bulletin ID (clicking an ID link will redirect you to the related information on the vendor's site)
Severity
Vendor
Application
Status
Reason
Date and time
The counter above the list will show the total number of patches and the number of installed patches, missing patches, failed patches, scheduled patches, and ignored patches.
By default, the report will display information for the last 30 days. You can adjust the time frame by clicking the start or the end date and then choosing different dates from the calendar, or by selecting one of the quick options on the left (Last week, Last month, Last three months).
To facilitate data lookup further, the Patch report can be customized by using the search field to search by device alias/name, patch name/bulletin ID, vendor, and application.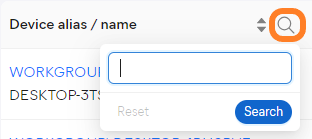 You can also filter the report by:
Site/Customer (at multi-tenant/partner level)
Patch severity: None, Low, Moderate, Important, Critical
Patch status: Missing, Scheduled, Failed, Installed, Installing, Ignored, Rolling back, Not approved
Status reason: Installed manually, Excluded manually, Installed automatically, Excluded for settings, No filter hit, Rolled back
Multiple columns can be sorted to display the results in ascending or descending order.
Scheduling and Exporting
You can set up your reports to be automatically generated on a recurring basis, then emailed to specified users. You can also manually download them in PDF or CSV format.
For instructions, see Scheduling and Emailing Reports and Exporting Reports.