PROXIMANOVA-LIGHT.OTF PROXIMANOVA-LIGHTIT.OTF PROXIMANOVA-EXTRABLD.OTF PROXIMANOVA-BOLD.OTFPROXIMANOVA-BLACK.OTF
Get this font in here!
Advanced Firewall Features
This Article Applies to:
Essential/Premium/Ultimate Business Security

Small Office Protection
The advanced Avast firewall features, first introduced in the Antivirus version 21.11, can be viewed and managed in the Protection > Firewall > Advanced section.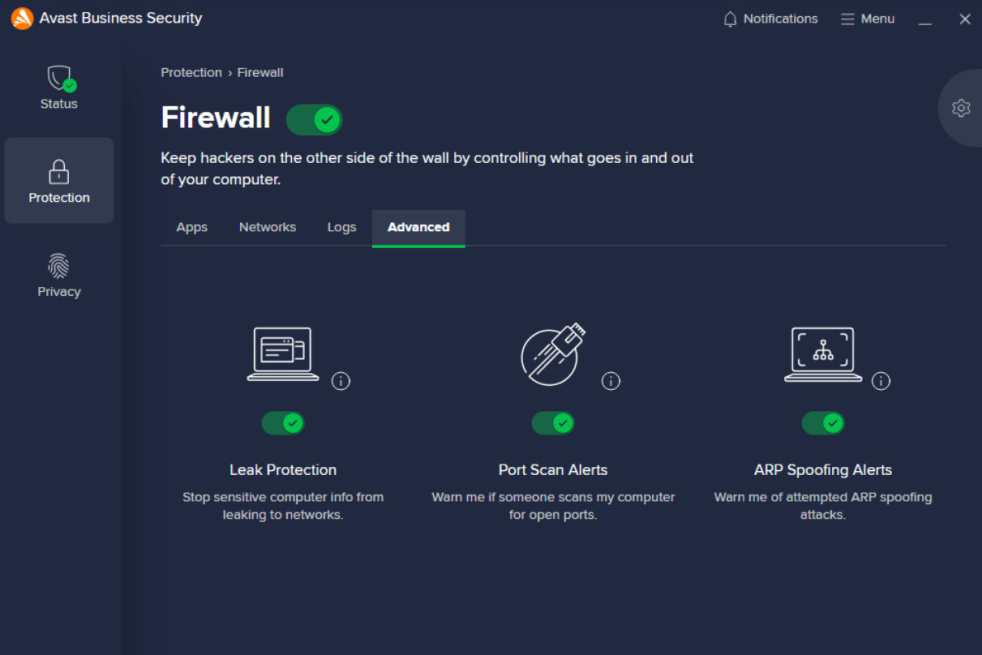 Use the toggles to enable or disable the available features:
Leak Protection: Protects the device from leaking potentially sensitive data by enabling packet rules to block certain types of communication
Port Scan Alerts: Warns you about hacker and/or malware attempts to scan the device for open ports
ARP Spoofing Alerts: Warns you about attempted ARP (Address Resolution Protocol) spoofing attacks (also known as ARP poisoning)
Advanced Settings
You can access advanced settings by typing geek:area in the search field on the Settings screen, then scrolling down to the Firewall section.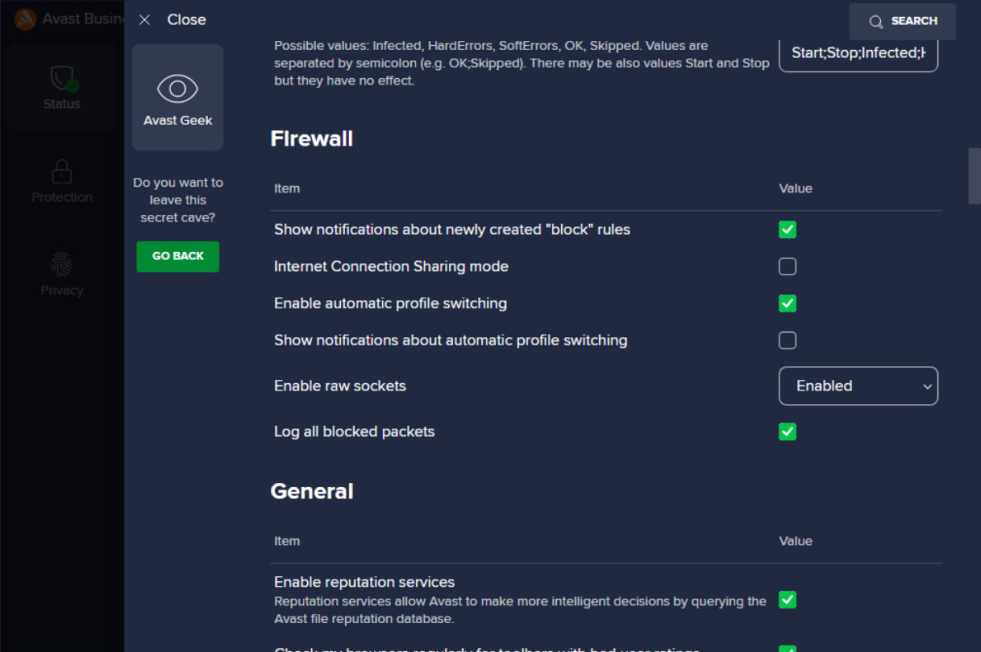 Show notification about newly created "block" rules: Pop-up notifications will be displayed when

Avast

blocks a new communication path.
Internet Connection Sharing mode: This will allow a trusted user to connect to the internet through your PC and/or connect to devices connected to the internet via your PC (this opens additional ports, which could be a security concern)
Enable automatic profile switching: This feature changes the firewall mode based on the profile set on network
Show notifications about automatic profile switching: This will trigger an

Avast

pop-up message about connection to a network and firewall profile changing
Enable raw sockets: This functionality allows communication with applications through raw sockets
Log all blocked packets: 

Avast

will add blocked packets to the firewall logs, to help create exceptions or new network rules (for more information, see Logging Blocked Packets to Create Exclusions)
Reverting to Old Firewall Settings
In the event you would like to revert Antivirus to the older Firewall settings, do the following:
In Menu > Settings > General > Troubleshooting, untick the Enable Self-Defense checkbox, then confirm your choice if prompted
Open the configuration file at C:\Program Files\Avast Software\Avast\setup\config.def
Edit the value newFW=1 to newFW=0
Save your changes and exit, then restart the local client
Other Articles In This Section:
Related Articles: