PROXIMANOVA-LIGHT.OTF PROXIMANOVA-LIGHTIT.OTF PROXIMANOVA-EXTRABLD.OTF PROXIMANOVA-BOLD.OTFPROXIMANOVA-BLACK.OTF
Get this font in here!
Configuring Files and Programs Scanned by Antivirus
You can configure a schedule for scanning files and programs with CloudCare Antivirus in Policies. While you cannot configure much beyond the timing, you can use the settings for the various Shields and Exclusions to determine what is scanned and what is not.
Types of Scans
Quick Scan—Scan for common threats
Full System Scan—Run a detailed scan of every file on the device
Creating Scheduled Scans
You can use the toggle to determine if the scheduled scan is Quick or Full System.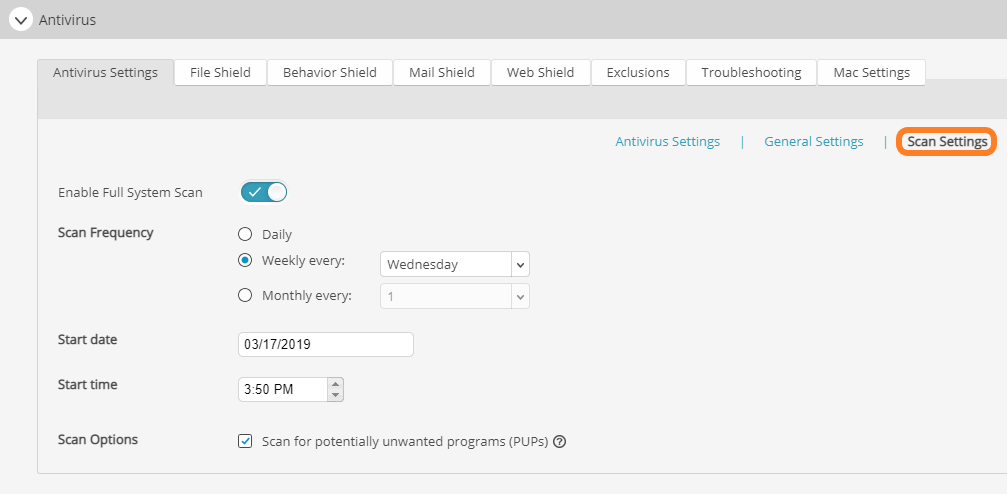 Click the name of the

policy

you would like to add a scan schedule to
Expand the

Antivirus

section
In the

Antivirus

Settings section, click Scan Settings
Configure the following:

Frequency: choose between Daily, Weekly (select week day), and Monthly (select day of month)
Start date: choose which day you would like the scan schedule to begin
Start time: select which time of day you would like the scan to run
Scan Options: choose whether or not to scan for potentially unwanted programs (PUPs)

Click Save & Apply to Devices when you are finished

If you are editing a Master

Policy

, this will say Save & Apply to Customers instead
Any threats that are detected during this scan are usually sent to the device's Virus Chest. You can view and manage these detections in Device Details. For more information, see Virus Chest.