PROXIMANOVA-REGULAR.OTFPROXIMANOVA-REGULARIT.OTFPROXIMANOVA-BOLD.OTFPROXIMANOVA-EXTRABLD.OTF
Identity Protection (iOS)
Avast Security and Privacy protects the user's online accounts by using Identity Protection to check whether any of the passwords linked to the user's email address(es) have been leaked online. The function continues to check for leaks, and will immediately notify the user if a leak is found, and prompt them to change their password.
Activating Identity Protection
Tap the

Avast

Security and Privacy icon on your device to open the app
Tap Identity Protection (or Identity Guard) on the main screen
Tap Activate Identity Protection
Enter your email address
Tap Add Email
Adding Additional Emails
On the Identity Protection screen, tap Add New Email
Enter the new email address
Tap Add Email
You can delete email addresses by swiping left on the address and tapping Delete.
Leaked Password Alerts
When Avast detects a password connecting to one of your email addresses has been leaked, your Avast Security and Privacy app will include a red banner with information about the leak.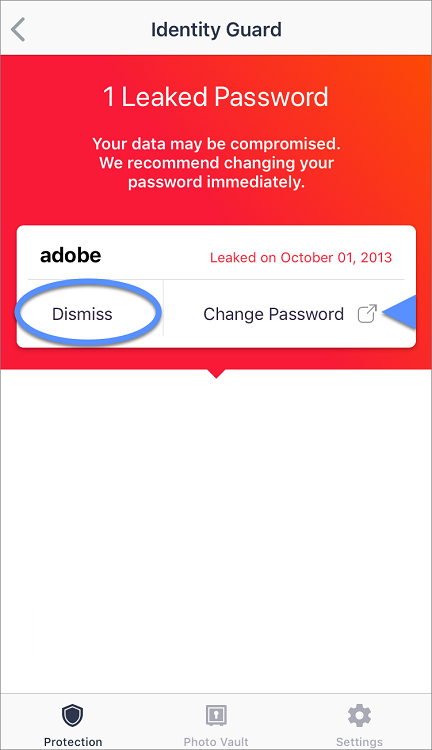 Clicking Change Password will open your device's internet browser to the email domain to change their password (such as gmail.com if the email account is Gmail). Once the password has been changed, the user will need to manually dismiss the warning by tapping Dismiss and confirming the choice.
Other Articles In This Section:
Related Articles: