PROXIMANOVA-LIGHT.OTF PROXIMANOVA-LIGHTIT.OTF PROXIMANOVA-EXTRABLD.OTF PROXIMANOVA-BOLD.OTFPROXIMANOVA-BLACK.OTF
Get this font in here!
Configuring Standard
Antivirus

Exclusions

This Article Applies to:
Essential/Premium/Ultimate Business Security

Small Office Protection
You can configure exclusions (called exceptions in the local UI) that will propagate across all of the various components of Essential/Premium/Ultimate Business Security and Small Office Protection in the Exceptions tab of the Settings > General page.
Exclusions are limited to approximately 8000 characters. For this reason, we recommend you minimize exclusions where possible to prevent any security flaws and/or impact on system performance.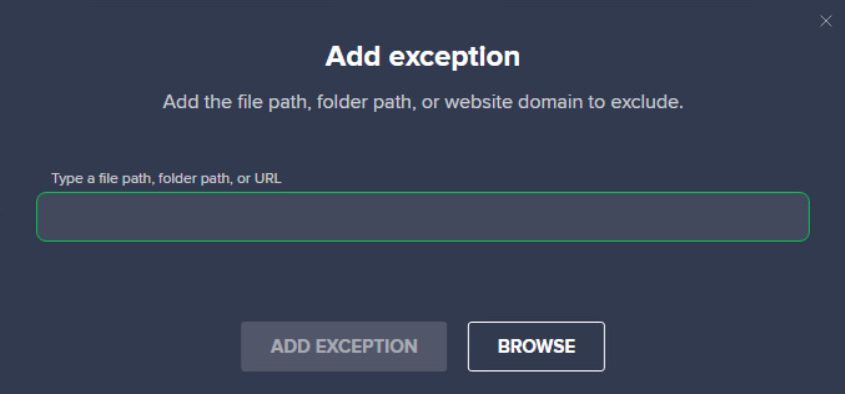 Adding Exceptions
Open the

Essential/Premium/Ultimate Business Security

or

Small Office Protection

client UI
Click Menu in the top-right, then Settings
In the General ▸ Exceptions section, click Add Exception, then do one of the following:

Enter or browse to a file path you would like to exclude
Enter or browse to a folder path you would like to exclude
Enter a URL you would like to exclude

Click Add Exception when you are finished