PROXIMANOVA-REGULAR.OTFPROXIMANOVA-REGULARIT.OTFPROXIMANOVA-BOLD.OTFPROXIMANOVA-EXTRABLD.OTF
Resolving Threat Detections
This Article Applies to:
AVG Business Cloud Console

AVG Business On-Premise Console
You will receive notifications on threats that are detected across your network. These will appear on the Notifications page and as device alerts on the Devices page. For more information about threats and managing your notifications, see Threat and Alert Types and Configuring Threat Notifications.
Most threats detected by AVG will be sent to the Virus Chest on the device for you to review and either restore or delete. You can view all threats detected on a device and the Virus Chest in Device Details, accessible by clicking on a device name on the Devices page. The Threats Detected tab shows the threat status, name, file name and location, how it was detected, and the date of detection for everything detected on the device.
Cloud Console
On-Premise Console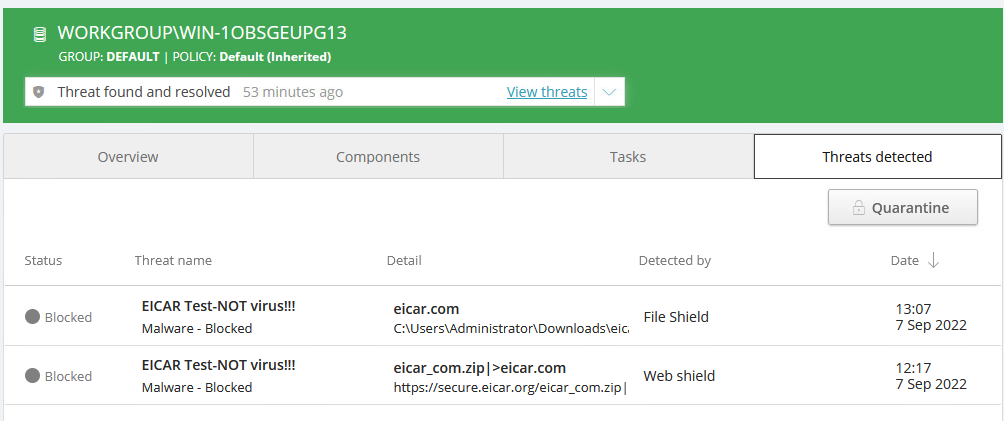 Restoring or Deleting Infected Files
On-Premise Console
On the Devices page click the name of the device where the threat was detected
Click the Threats Detected tab of the Device Details page
Click Virus chest
Select the infected file and click one of the following:

Restore file(s)
Delete file(s)
Exceptions
If the detection was a false positive, you should create an exception for the detected threat in the policy assigned to the device. For more information see Configuring Standard Antivirus Exclusions and Configuring Component-Specific Exclusions.